Biography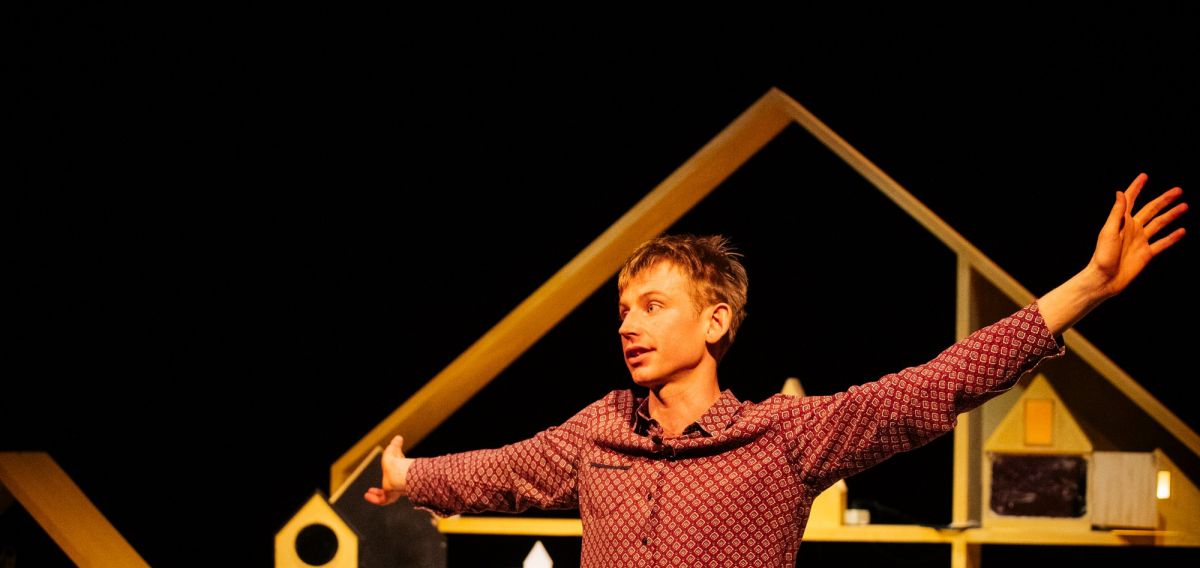 biography
pasteable content for promoters
Biography (190 WORDS)
To witness Toby Thompson proclaiming in dulcet tones his message of love and wonder is to peacefully commune with your deepest innermost self. Toby has written commissions for the RSC and for the National Portrait Gallery. He's a previous Glastonbury Poetry Slam Champion.
His first one man theatre show, 'A Day To Remember', was commissioned in 2015 for Remembrance Day by Royal And Derngate, Northampton.
His second show, 'For The Record', premiered at the Edinburgh Fringe 2018, where it received a satisfying clutch of 4 & 5 star reviews and won the Pleasance Indie Award for Best Theatre Show.
In January 2020, Toby's third one-man-poetry-and-music-storytelling-bonanza 'I Wish I Was A Mountain' flew to Philidelphia, where it won the prestigious Viktor award for Best Theatre Show at the International Performance Art For Youth Festival. In 2022, Toby toured 'I Wish I Was A Mountain' to China for six months, and also to Ireland for 3 weeks, where he received a 5 star review in the Irish Times.
praise for toby
"...a wonderful gift for language, a deep sensibility and a penetrating sense of perspective."
Sir Ken Robinson. Renowned Educationalist and Creativity Expert
"Entrancing… The words tumble out of him like an extended jazz solo."
The Guardian
"One of the most inspired, powerful poets I've heard in years."
Dizraeli. Champion Poet, Rapper, Dizraeli & The Small Gods.
"...easily one of the most gifted young wordsmiths I have ever had the pleasure to encounter."
Akala. Rapper & founder of the Hip Hop Shakespeare Company
"Toby Thompson is the future."
Kae Tempest
Praise for 'For The Record'
"Toby Thompson transforms a shipping container into a sensory escape that mirrors his poetry: heartfelt, intricate, often humorous & always evocative portraits of love. 5/5"
Fringe Biscuit, 5 stars
"Something truly magical… An ethereal exploration of life, love, and music… Touching, captivating, and toe-tinglingly lovely... This is performance poetry at its most heartfelt"
Edinburgh Guide, 5 stars​​​​​​​
praise for 'i wish i was a mountain'
"An Exquisite escape from the noise of modern life, offering life lessons that sing through the ages"
The Irish Times, 5 stars
"Jazzy Hermann Hesse tale is stunning… Reveals Thompson as a star in the making"
The Guardian
"A wonderfully persuasive example of storytelling as a magnet for childhood curiosity and imagination"
Herald Scotland, 5 stars
"A poetic, musical, and beautifully delicate reimagining"
Wales Arts Review
"One of the most delightful storytelling performances I have ever experienced"
Stage Door, 4 stars​​​​​​​